Brimming with happiness, young Sumona declared, "I play to win", when she was asked about her heroic performance which led her team, Chanpara Croatia Football Team to victory over their opponents for the day, Chanpara France Football Team.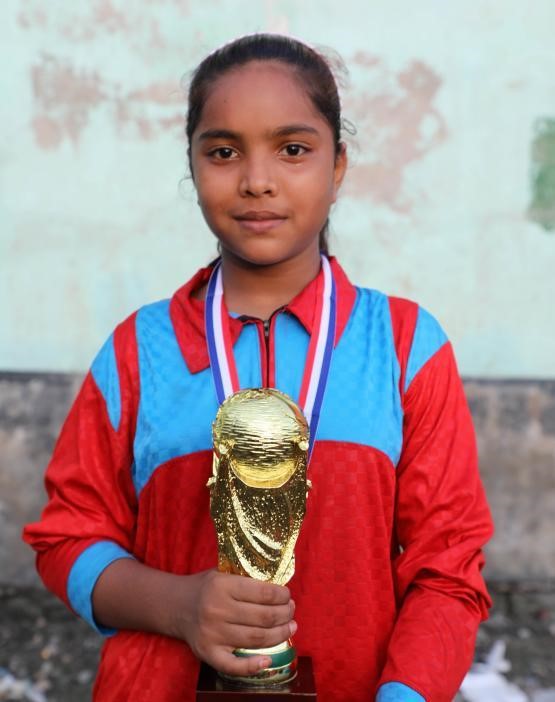 ActionAid Bangladesh and PSTC organized a pre-final/friendly football match between two groups of Chanpara girls on 14th June 2018, the day before the World Cup Final to celebrate women in sports. The match was an instant hit among the locals and the heartiness and sportsmanship shown by the girls was acknowledged by each and everyone present to witness this extraordinary match. Throughout the match, the Chanpara girls displayed remarkable determination to prove themselves on what was perhaps the biggest stage they have ever gotten to exhibit their talent as footballers. On the day, the Chanpara Croatia Football Team won thanks to a superbly taken penalty kick by the flamboyant youngster Sumona but both teams won the hearts of each and every person watching on including community leaders and honorable guests.

Sumona is one of the many Chanpara girls who have been breaking patriarchal barriers by participating in an outdoor sport in the form of football. Regarding her involvement in football Sumona said, "It is something I love and all I have been doing is follow my dream of being able to do what I love".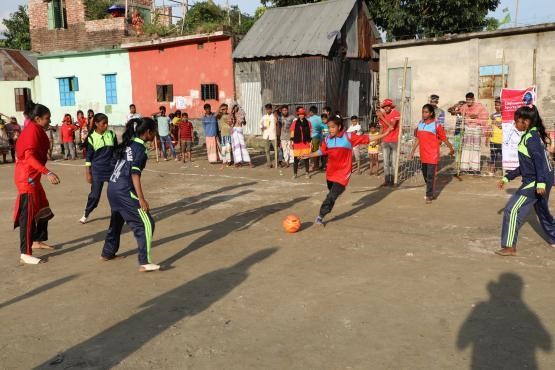 Sumona along with the other Chanpara girls started practicing football in light of the initiative taken by the youth club formed at Chanpara with the support of ActionAid Bangladesh and PSTC. This started in 2016, when the young people of the youth club decided to organize girls' sports to observe International Women's day.
Chanpara is a slum area in Narayanganj, Bangladesh and like many other underdeveloped areas in the country, a woman indulging in outdoor sports is a taboo in the area. It was a concept completely unthinkable to the local people prior to ActionAid Bangladesh and PSTC's intervention. These two organisations have been working in Chanpara since 2011 to improve the lives of people, especially women and girls. So, when the Chanpara Youth Club came up with the fantastic proposal of involving the community's girls in sports, they received the total support of both ActionAid Bangladesh and PSTC. ActionAid Bangladesh saw this as a great opportunity to reduce the possibility of child marriage, increase leadership skills and raise women's voices in transforming gender roles in daily life as sports can play a significant part in achieving these feats.
The locals were extremely skeptical about the idea of their girls playing outdoor sports as it defied all the cultural beliefs they had held on to for as long as they can remember. The youth club boys and girls did not let these obstacles dampen their morale though as they marched through each and every obstacle on their way to make this dream a reality.
Women have recently contributed significantly to Bangladesh's international sports scenario and achievements but it is no secret that their paths to such achievements are much harder in comparison to the path men have to follow. This is due to the patriarchal practices in the society and insufficient allocation of resources into the field of women sports. It is time though, to take giant strides in the field of women sports and benefit from all the other aspects of women rights it enhances. The Chanpara girls can be major vehicles of change, as suggested by the huge success of the Friendly match, and can inspire other women to transform their lives in the way they have done for themselves.
Written by: Magnus Mayeen Ahmed & Asha Alamgir